A multi-purpose Discord bot with 50+ commands for meme creation, searching the web, formatting messages, and more: Now updated for 2019!
Make Memes
Caption GIFs
Search YouTube
Ask Onyx Anything
Plus 50 Other Commands
INVITE ONYX TO YOUR SERVER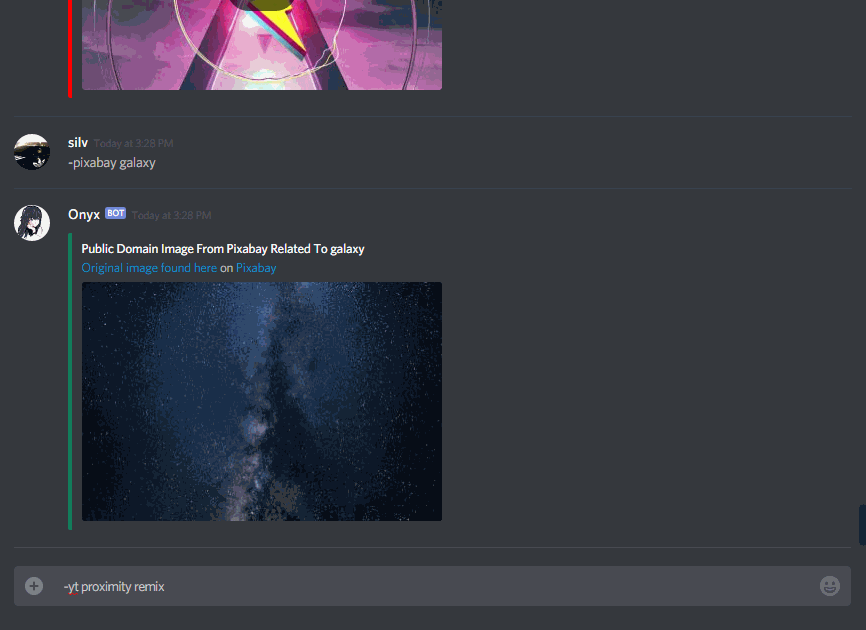 Updates for 2019
Happy New Year! Onyx has received major updates for 2019, including music bot functionality, and sending eCards to other members on the server. You can now play music in a certain genre, such as lofi or synthwave, perfect for late-night listening.
To enable this, just join a Voice Channel, and type `-playmusic lofi`. The two genres available are lofi and synthwave, but many more are on the way. Other updates include:
You can now send eCards to others, with a message attached.
Now, you can send a trending GIFt to someone also, perfect for keeping up to date on what's trending online.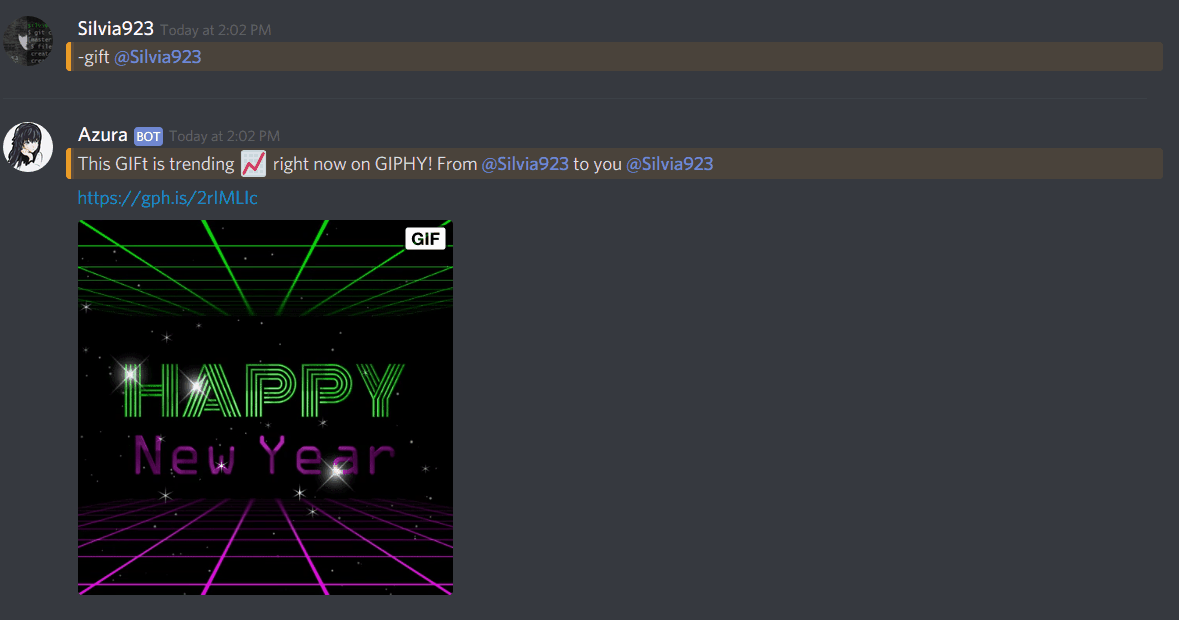 Make Memes & Caption GIFs
Make memes, caption GIFs, search for GIFS, memes . . . all out of the box.
Over 15 meme templates you can caption
Get trending GIFs and stickers
Translate words to GIFs and stickers
React with GIFs
Caption memes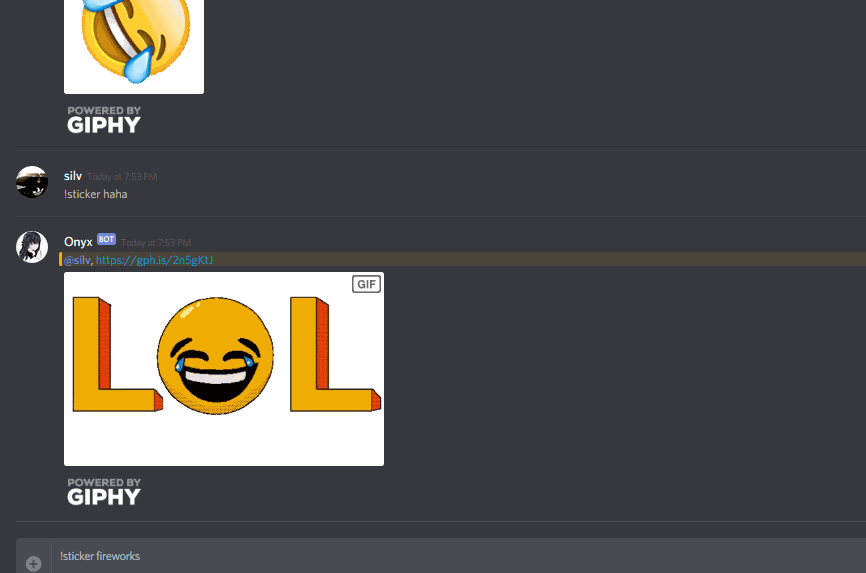 React With Stickers & GIFs
Get thousands of reaction stickers & GIFs to liven your Discord experience, and add some oomph to your messages.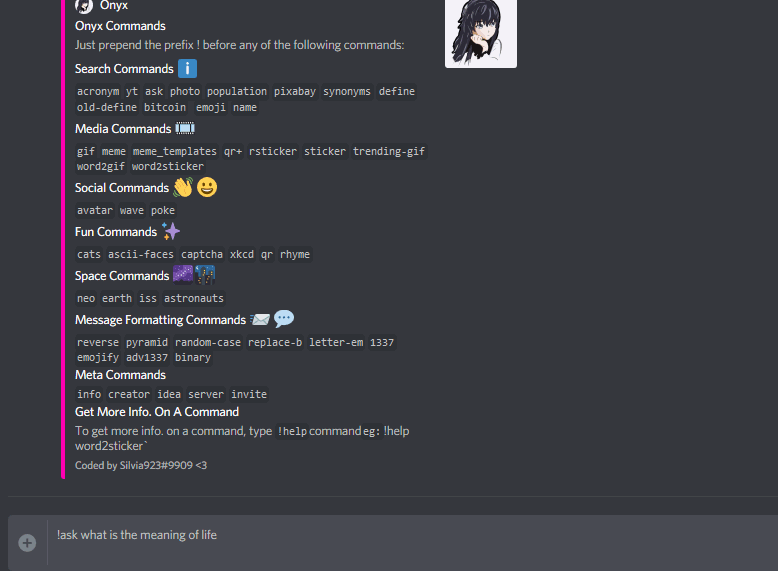 Ask Onyx Anything
You can ask Onyx any question, and she'll provide detailed info. Need a definition? Want more info. on a topic? Just ask Onyx.
Get stats on your first name's popularity
Get definitions for any word
Get the meaning of acronyms and/or abbreviations
...plus virtually any question you need answered!

Get YouTube Videos & Listen to Music
Search for your favourite music videos or share your favourite videos with friends.
A single "yt" command is all you need to search YouTube
Lightning fast
Returns the first result from YouTube
Listen to music with the playmusic command: lofi and synthwave available.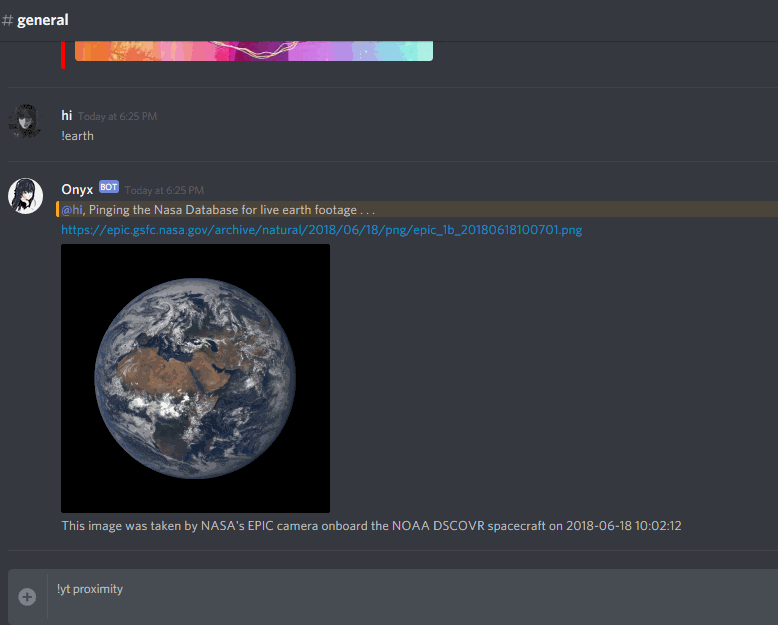 Get The Latest Live Space Stats
Onyx has space covered. From photos of galaxies far away to live NASA footage, Onyx is keeping her eye on the stars.
Get live footage of Earth as seen from the NOAA Discovery Probe
Get live ISS co-ordinates
Get photos of galaxies, solar systems, and more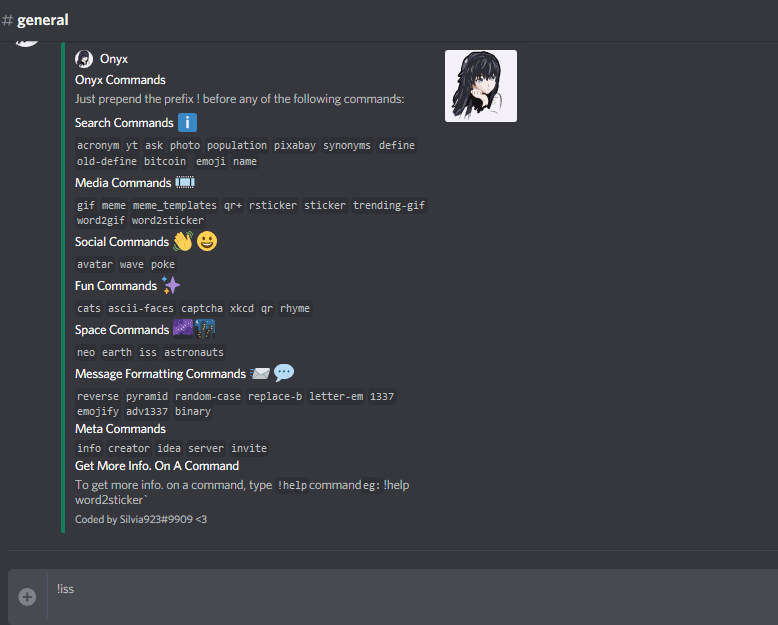 Tons of Message Formatting
Now you can transform your message into something spectacular.
Translate to binary, 1337, advanced 1337
Turn messages into emojipastas
Emojify your message's letters
Translate words to GIFs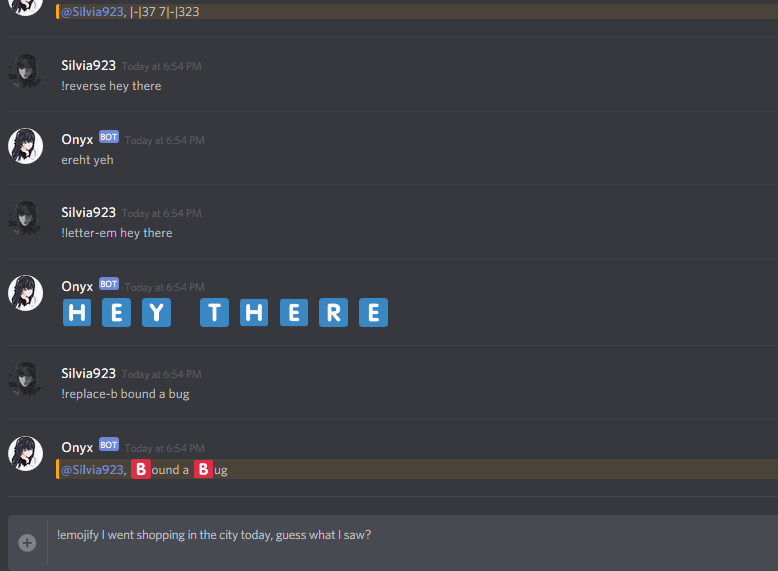 Entertain Your Server With Fun and Media Commands
Onyx comes with dozens of fun and media commands that'll keep your server entertained for hours.
Fetch images from Unsplash and Pixabay
Make captchas, QR codes, and bar codes from plaintext
Get comics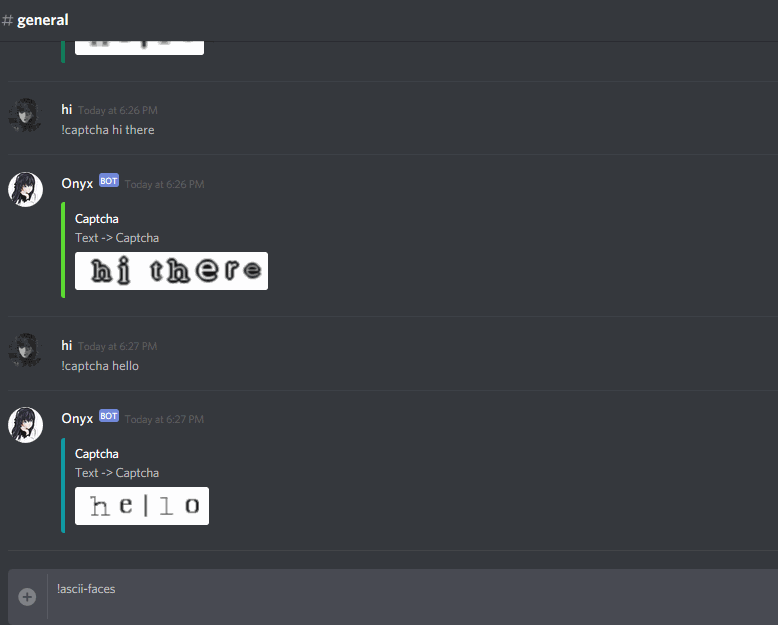 Continually Updated
Over three new commands get added to Onyx every week, so you'll always have new commands and functionality on the way. (See Onyx Labs for features coming soon)
Coming Soon
Spotify Integration
Points-Based Economy System
Futuristic Server Stats Commands
A live dashboard
Got an idea for a feature? Contact @Silvia923#9909 on Discord, or utilise Onyx's idea command. :D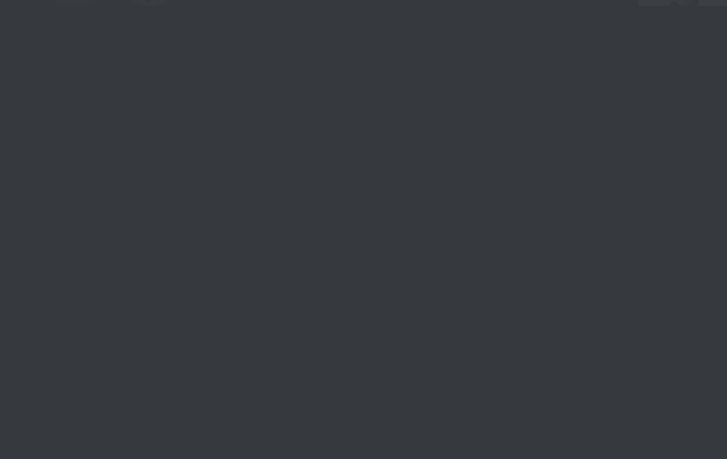 The Stats
SERVER COUNT
308
UPTIME
97.2% uptime
COMMANDS
47
PREFIXES
-
@Onyx
RUNS
24/7
MOST POPULAR COMMANDS
meme, photo, yt, getem, captcha, ask
Chat & Support 💬
Pages